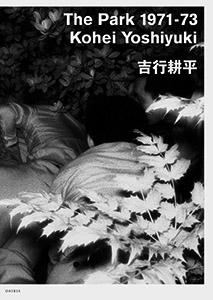 On sale in Japan on June 2011
16 pages, 14 b/w plates
420 x 298 mm (16 5/8 x 11 3/4 inches)
Price: 1,620.- yen
By using a camera equipped with infrared film and filtered flash Kohei Yoshiyuki (born in 1946) photographed of couples having sex in the parks in Tokyo and the voyeurs watching them through the darkness. Yoshiyuki published the photobook, "Document: Koen [Park]" in 1980 of these photographs produced between 1971 and 1973 together with the photographs of the gay couples newly taken in 1979 for the book.
His first solo exhibition abroad, a collection of these images from the "The Park" was held nearly 30 years later at Yossi Milo Gallery in New York in 2007, and the book "Kohei Yoshiyuki: The Park" (with 62 images) was published by Hatje Cantz/Yossi Milo Gallery in the same year. Since then, this Yoshiyuki's project received global acclaim resulting in exhibitions throughout the US and Europe, such as 2008 Berlin Biennale, 2009 PhotoEspana, 2012 Liverpool Biennal, and 2013 Venice Biennale.
It is a social document of the megalopolis of Tokyo in the 70s, raising questions related to human desire, privacy, and voyeurism. In an essay "Voyeurism and Appropriation in Kohei Yoshiyuki's The Park," Marco Bohr accurately described the fabric of this amazing photographic work. "Yoshiyuki thus sets out a complex dynamic of looking and being-looked-at which can be deduced into this formula: a couple kisses in the park, the couple is watched by voyeurs, the photographer photographs the couples being watched by voyeurs, and finally, the viewer looks at a photograph depicting voyeurs looking at a couple kissing in the park. In other words, not only the photographer but also the viewer of the photograph become incidental voyeurs in the act of looking.
This tabloid-style "The Park 1971-73" was published on the occasion of his exhibition in Tokyo in 2011. It includes 14 best known images from the series.