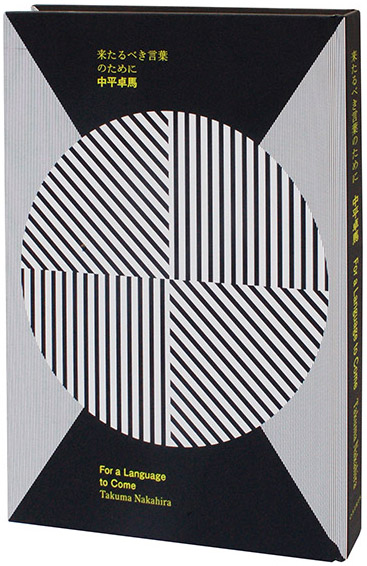 A legendary photobook revived!
Forty years after his radical provocation against established language
Has the history of photography finally caught up with Nakahira?
On sale in Japan on June 21, 2010
Hardcover, 160 pages
100 b/w plates in duotone
300 x 208.5 mm (11 3/4 x 8 1/4 inches)
With a supplement including a critical introduction and three essays by Takuma Nakahira translated into English for the first time.
Cover design: Kazunari Hattori
Price: 7,128.- yen
ISBN978-4-9901239-8-7
[Editor's Outline]
Published in 1970, For a Language to Come is recorded in the history of photography as the first photobook by Takuma Nakahira, the photographer who brought about a turning point in contemporary Japanese photography from the late 1960s to the early 1970s by radically breaking away from the existing image aesthetics at that time. This book consists of one hundred black and white photographs including his work from the legendary photography magazine Provoke. However, forty years after the publication of the original book, we have not as yet had the opportunity to examine (and enjoy) his works enough with the exception of a few photographs that has been repeatedly introduced on various occasions (this is particularly true in Europe and the U.S. where the history of contemporary Japanese photography remains less appreciated). Through radical self-critique, Nakahira would repudiate much of this early body of work in his 1973 essay, "Why an Illustrated Botanical Dictionary?" and considered it as something that must be overcome. Yet, for us to reconsider the meaning of the author's rejection of his inaugural work, it is extremely valuable to know what the works themselves show. Has our history of photography finally caught up with Nakahira? The 2010 republication of For a Language to Come with a new cover design is an attempt to engage Nakahira's photographic point of departure again in the present, to discover this work as one that is more vibrantly resonant today.
For a deeper appreciation of his critical thought and practice, the supplement to the republication presents three essays written by Nakahira in the early 70s.
[Contents of the supplement]
-An introduction by Akihito Yasumi, "Trajectory of Nakahira Takuma: Situating the Republication of For a Language to Come."
-Three Essays by Takuma Nakahira:


"Has Photography Been Able to Provoke Language?"


"Rebellion Against the Landscape: Fire at the Limits of my Perpetual Gazing . . ."


"Look at the City or, the Look from the City"
(All translations by Franz K. Prichard)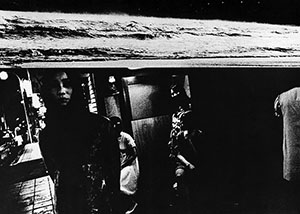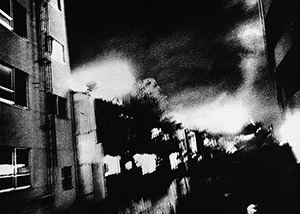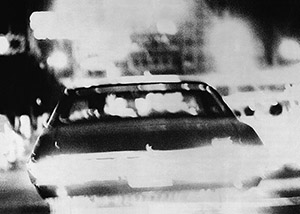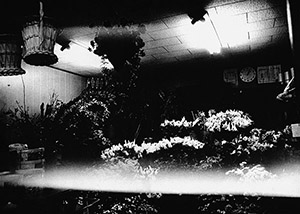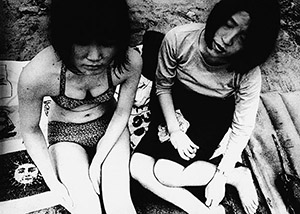 [Author's Profile]
Takuma NAKAHIRA. Born in Tokyo, 1938. Graduated from the Spanish Department of the Tokyo University of Foreign Studies. Entered a publishing company where he worked for the magazine, Contemporary Eye. From the mid-1960s, began publishing many essays on photography and film in various magazines and around the same time started taking photographs. Co-founded a quarterly coterie magazine for photography, Provoke, subtitled "Provocative Materials for Thought" with Koji Taki, Yutaka Takanashi, and Takahiko Okada (Daido Moriyama contributed to the second and third issues). Provoke's grainy, blurry and unfocused photographs moved away from established aesthetics and conventions to make a strong impact on the photographic scene in Japan at that time. After the publication of For a Language to Come, in the title essay of the 1973 collection of his writings, Why an Illustrated Botanical Dictionary? he critically reexamined his previous photographs. Immediately after the publication of the seminal book, Duel on Photography, which coupled Nakahira's essays together with photographs by Kishin Shinoyama, Nakahira succumbed to an illness in November 1977 that brought him near death. Though he was tormented with memory loss and aphasia, Nakahira gradually recovered and started taking photographs once more. In the 1980s, he published two photobooks of his works after 1978, A New Gaze and Adieu à X, and later, Hysteric Six Nakahira Takuma in 2002. In 2003 the large-scale retrospective, "Nakahira Takuma: Degree Zero –Yokohama" at the Yokohama Museum of Art was held with more than 800 photographs from his formative period to 2003 and his work received renewed attention. Nakahira had solo exhibitions at Shougoarts, Tokyo in 2004 and 2007 and participated in many group exhibitions in Japan and abroad. Two films on Nakahira, directed by Takashi Homma and Masashi Kohara were made. In 2007, a collection of more than fifty of Nakahira's essays up to 1977 was published. Nakahira now lives and works in Yokohama.