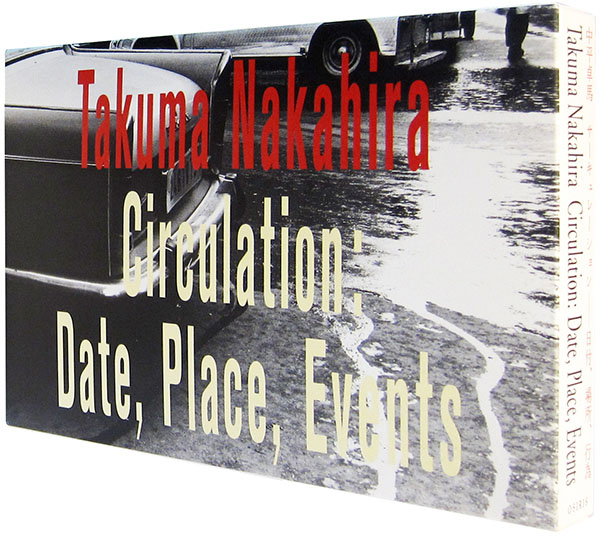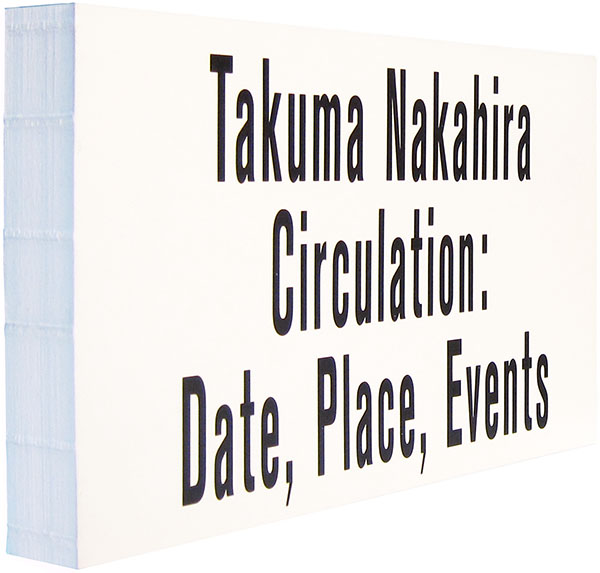 Paris, 1971. At a biennale where young artists from around the world had gathered, Nakahira Takuma performed an experimental project that dared to ask, "what is expression?" He attempted to indiscriminately document a limited reality shaped by "date" and "place" and then immediately re-"circulate" these in reality. This would be the first materialization of his own photographic methodology.
Published by Osiris, Tokyo
On sale in Japan on April 26, 2012
Soft cover with slipcase
320 pages
257 b/w plates
145 x 208 mm
Price: 5,400.- yen
ISBN978-4-905254-01-0
Book design by Kazunari Hattori
[Essays]
Three essays by Takuma Nakahira:
"Photography, a Single Day's Actuality" (February, 1972)
"The Exhaustion of Contemporary Art: My Participation in the Seventh Paris Biennale" (December 1971)
"Returning from Africa" (December 1971)
An essay by Akihito Yasumi (critic)
"Optical Remnants: Paris, 1971, Takuma Nakahira."
All translations by Franz K. Prichard.
[Editor's Outline]
In 1971 photographer Takuma Nakahira participated in the Seventh Paris Biennale for emerging artists from around the world. In his experimental project Circulation: Date, Place, Events Nakahira challenged himself to photograph his surroundings and in the same day exhibit the results for a duration of approximately one week. Indiscriminately documenting everything he encountered — the Parisian streets, the people and cars that came and went there, all manner of posters and printed matter, the installations in the Biennale including the constantly evolving display of his own work, the underground passageways of the subway, news wire reports transmitted by teletype machines, the constant flow of images on television, his room service breakfast in his hotel room and drying underwear — Nakahira exhibited the photographic traces of his daily experiences of Paris within each day. As the photographs proliferated day after day, the exhibition wall could no longer contain them, and Nakahira spread them onto the floor.
Encountering difficulties with the event organizers, Nakahira tore down the exhibited photographs two days before the end of the Biennale. Despite reaching such an extreme conclusion, in an essay written upon his return to Japan, Nakahira would write, "Now, as a result of this project, I can feel that the things that I say and the things that do are beginning to agree with one another for the first time." Nakahira saw this experience as a crucial attempt to materialize his own photographic methodology.
For Nakahira, Circulation: Date, Place, Events of 1971 (the contents of which only a small portion have been known before now), represented a practice-based step towards radically changing his own photography. Thus, the project demonstrated a vital turning point situated in the passage between 1970's For a Language to Come (a collection of his photography since the mid-1960s), and the 1973 collection of media criticism, Why an Illustrated Botanical Dictionary? where he would declare his intent to change his methodology in the title essay after critically reassessing his earlier work.
Circulation: Date, Place, Events consisted of the daily process of capturing fragments of material reality with the camera and returning these back to reality as photographic prints made on the spot in the form of a photographic site-specific installation. As a photobook, this volume seeks to newly engage Takuma Nakahira's critical perspective as produced in Paris, 1971, rather than simply recreating the original installation. In 1973, seeking to make break with the past and reject his own photography up to that point, Nakahira would burn up most of his negatives and prints. Fortunately, or perhaps intentionally un-burned, the negatives corresponding to Circulation: Date, Place, Events have been preserved. There are approximately nine hundred and eighty cut 35 mm negatives (B&W) as well as forty-eight remaining prints confirmed to be part of the photographs taken and exhibited by Takuma Nakahira for his submission, Circulation: Date, Place, Events at the Seventh Paris Biennale. The editing and composition of this volume, which compiles together mainly photographs confirmed to have been exhibited and those which have not been confirmed, is based on analysis of their date and time of exposure as well as the state of their display during the installation found in these existing photographic and related materials. The prints made from the original negatives for the printing of this volume were produced by photographer Osamu Kanemura in consideration of the original aims of the work.